New Page Design
When setting up a page you will need to include a Page Name and URL-Identifier. By doing so you will enable participants to identify and locate your page easily on the platform. The page name will also appear on your platform's sidebar.
Reminder: Be sure to include a "/" before any text in the URL-Identifier
Icons
Icons are images that will appear next to the page name in the sidebar. You have the option of choosing one from the list provided or uploading an icon of your own. The only page that has a fixed icon is the home page.
If you opt to upload your own icon, select "Custom Icon". From there you will see the option to include an image of your choice. Please note: Custom Icon files must be png, jpeg or jpg and the recommended size is 300x300px.
If you do not choose or upload an icon, the first icon of the options provided will be set as the default next to your page name.
Order/Priority
Order/Priority dictates the order in which your pages will appear on the left-hand column, with "1" being the highest after the "Home" page. It is recommended to order pages even if you are unsure of the order - this can be adjusted at any time.
Page Visibility
Page Visibility determines if the page can be viewed by the public or fully registered participants only. By setting the page to Private, the page will only appear for those that are fully registered for your challenge on the platform. Public pages can be seen by both fully registered participants and those who have not registered.
Page Background Colour
The page background colour default is off-white, but this can be adjusted to any colour of your choosing.
Tip: If you choose a dark background be sure to use light-coloured text.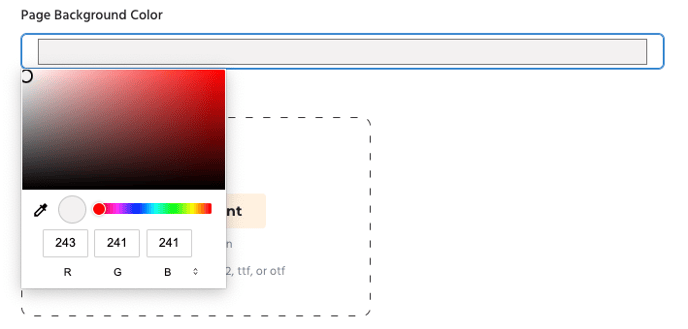 Fonts
The platform offers a number of fonts (see below). If there is a font style you would like to use that is not available, you are welcome to upload your own. Please note file format must be woff, woff2, ttf, or otf.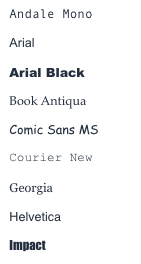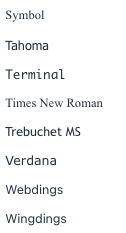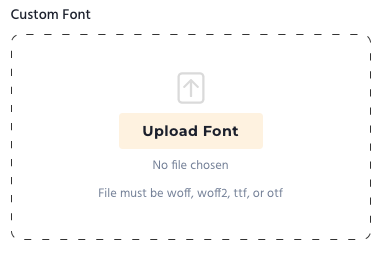 Page Background Image
Page background image allows you to upload an image as a background in addition to setting the opacity. Please note, files must be png, jpeg or jpg.
Page Background Style
In addition to setting the opacity of background images, you can choose the style in which the image is portrayed:
Repeat: your image will repeat across the entire page background
Fit: your image will be enlarged or shrunken to fit the entire page
Center: your image will be centered on the page background
Banner Image
You can include the event banner you included in "Event Info" at the top of any page by turning the toggle on.
Once you have set up the basics of your page, you can start to create your page content. For more information on page content, check out our "Creating Page Content" article.